The Ripple Effect
October 25, 2014
Aka…Leo's Flying Turtle Circus!

I love a sense of wonder! And magic!
This exhibition of my work I trust will provide that. It is doing so for me right now as I create the imagery for this show at Martin Gallery in Charleston, South Carolina.
It began for me years ago when I did my first wooden turtle in maple burlwood. A burl has always seemed to me to be the perfect natural shape for these great long living creatures of the sea. One of those wooden turtles was cast into bronze and both the original and one of the limited bronzes were gifted to The Brookgreen Gardens of Pawley's Island, SC. This is one of the finest and oldest sculpture gardens in North America and it was and remains a great honor to have my work there amidst so many sculptor heroes of the past.
The work for this show has taken over a year for creating and it will open on February 5th for the monthly art walk in the French Quarter of old Charleston. This gala event is going to be in conjunction with and a percentage of the sales will be donated to the South Carolina Aquarium which is expanding its amazing sea turtle hospital so that the public may be more closely involved with it.
On January 30th the exhibition ENVIRONMENTAL IMPACT will be opening at the Brookgreen Gardens and I will be present for that opening, followed the next day by a lecture about the show and my work represented within that exhibit. That following week Jane and I will be staying at a studio apartment in downtown Charleston and get time to enjoy a Charleston city fix! With the opening of RIPPLE EFFECT at Martin Gallery I will spend time meeting clients, old friends, and also doing a lecture at the Aquarium about creating a sea turtle in my famous burlwood style. By the time the show opens I hope to have a number of completed new turtle sculptures and several paintings. I have also created a number of small turtle hatchlings in bronze. These have been sculpted directly in wax and cast without a mold, so that each one is a one- of-a-kind bronze, something very unusual and unique.
Other works of mine will be a part of this event and fundraiser, like the life size mermaid SPLASH, which too will create a ripple effect. Ripples are a poignant part of this show. We see how one point of a raised turtle head from underwater sends forth ripples that navigate the world's oceans.
This is a wonderful opportunity for me, who has been loved in Charleston for my art for many years, to show in return how much I love that city and its inhabitants, including sea turtles. This too is part of the ripple effect that art has on the world and that the world has on the artists.
Burls; these old growth, knarly, encrusted nobs of wood, have emerging out of them, evolving old world species, sea turtle forms, and I have several in the sculpting studio in various stages. I feel like I am in the midst of a turtle-rama with me floating on the mists of the sea with these old soul mates swimming along with me. It is pretty easy to drift away when I consider that the outdoor studio is only a few hundred feet from the salty waters of the Strait of Juan de Fuca and the mouth of the Salish Sea. With the tides low, the scent of the sea comes to my nostrils and the turtles seem to almost raise their own heads in awareness of home.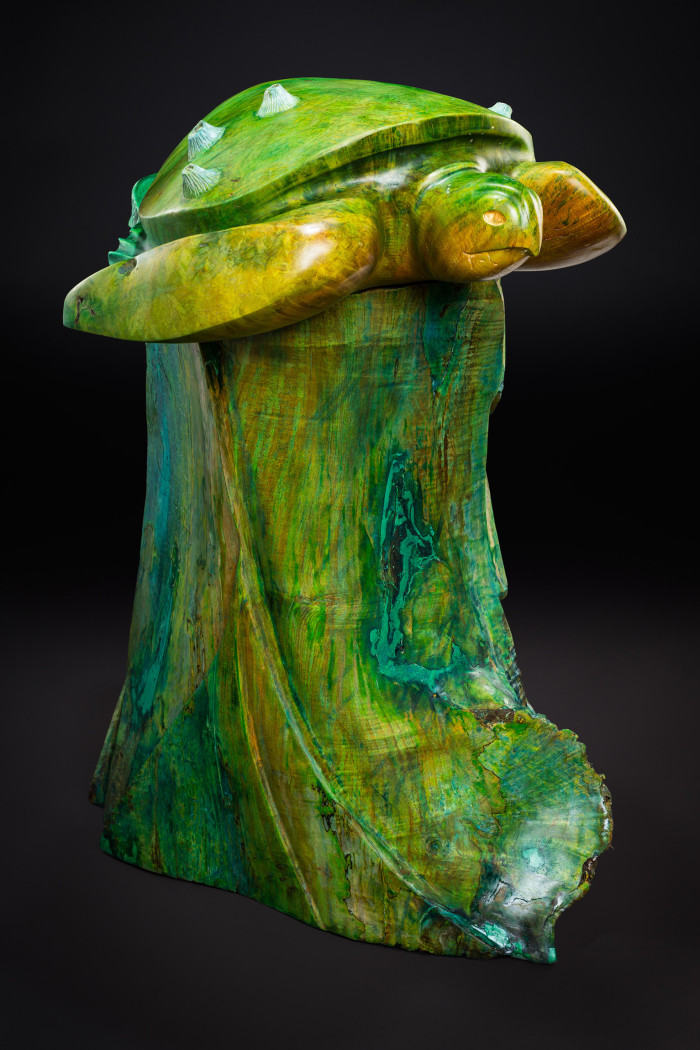 This entry was posted in
What's New
. Bookmark the
permalink
.