NEPTUNE'S BRIGADE
April 11, 2015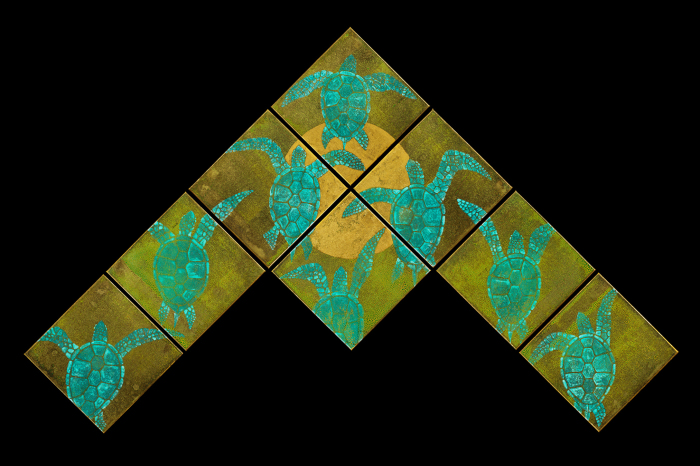 Price:  Upon Request
Details:
Eight individual original acrylusion on 23 K gold leaf paintings of a turtles in the golden light.
Dimensions:
36×52
Information:
NEPTUNE'S  BRIGADE
The word went out
the call was made
from far and wide
came Neptune's Brigade
Loggerheads, Kemp Ridley
and Greens
all swam together
as kings and queens
Leatherbacks, Hawksbill,
Flatbacks and Olive Ridleys
all seven species swam
from the great seven seas
Time was of the essence
no matter what the cost
if man continued to pollute
all would be lost
They came without weapons
an army of peace
with ancient wisdom to give us
a chance within reach
Stop your foolishness now
Was their heralding cry
You can turn this around
If you honestly try
Let nature be your teacher
not the corporate mind
stop worshipping money
as your god divine
All are suffering from
your greed, wars and fear
man, animals and reptiles
may all soon disappear
So listen to our story
from long ago years
we have come en masse through
this torrent of tears
This entry was posted in
Painting
and tagged
eight original paintings on gold leaf of turtles swimming in the reflection of the moonsun in shades of blue green and gold
. Bookmark the
permalink
.