My Love Affair With Charleston, South Carolina
October 15, 2014
A CHARLESTON ROMANCE

It began for me, Leo E. Osborne in 1988 when living in Maine, I made the commitment to go to South Carolina in February for my first Southeastern Wildlife Art Exposition.

My work was shipped prior to my flying to Charleston. When I got there the morning of the show's opening night, no one knew where my work had been stored! I was hanging around the Hibernian Hall, where the sculptors were to exhibit and I met a tall blond lovely woman named Arla Holroyd who came up to me and asked if I knew a painter named Nolan and I told her I did. She had a print to give to him, as she had owned a bed and breakfast in Mount Pleasant which she now used to give rooms to artists who were coming for the SEWE event weekend. It was the year before that Nolan had stayed with her. I told her I would point him out when I saw him and I told her what I was doing at the moment, waiting to have someone find my work in storage. She could not believe that no one knew where my work was and she took it upon herself to find out! Within two hours she had made the right calls and sure enough the right person found my work. The whole thing was upsetting of course as the show was about to go on! I got my work hung as wall sculptures, for they were my unique wall sculptures that looked like rocks with carved birds on them and shadows crossing the stone surfaces. They were in place not five minutes before the doors opened for the night's preview. Thank You Arla!!!!

The weekend was great and my wall sculptures were a hit and stood out among the works on display, for there was nothing else like them.

I returned the following year, and so in 1990 received the First Place Purchase Award and the Third Place in Decorative Wood Sculpture. In 1992 I was to receive the First Place in Interpretive Sculpture.

Then in 1994, a longtime friend who had art gallery experience with my work in Maine where we had met, gave me a call. She was a captain of her own sailing vessel and sailed the Maine waters in the summer and on to the Caribbean waters in the winter. She had made a decision to return to Charleston, her original home and there began her first art gallery at Yellow Dog Art Gallery in partnership with another woman. Soon Candace Martin opened her own gallery as The Martin Gallery on Queen Street. Candace had called to ask if I would show my work with her, of which I agreed immediately.

Thus began my longtime connection and love affair with Charleston, South Carolina. I returned each year for the SEWE and to show work and have special openings at Martin Gallery. This went on for a number of years until I decided to stop doing the Wildlife Festival and concentrated on doing special exhibits with the gallery.

Since then it has been a wonderfully remarkable story. I love Charleston, C~City as I affectionately call it and for years stayed with my good friend and dear soul Arla in Mount Pleasant. The stories that I could tell around our relationship are many and her beautiful mind of knowledge as a public teacher gave me much to know about the history and the people of this magnificent place and city.

As years went on the Martin Gallery took possession of one of the finest old buildings of the city, The People's Building and it is there that the gallery now houses the work of many fine artists. My works in wood sculpture, bronze limited editions, and unique paintings are on continual display and I am very grateful to not only love Charleston, but to see that Charleston loves me and my work! We have had an ongoing fine and delightful time and relationship.

This brings me to February 2015 when once again I will personally be in Charleston and at the wonderful Martin Gallery for a very special show. We are working in conjunction with The South Carolina Aquarium and their magnificent Turtle Hospital to create a Gala for The Turtles. I am working now on a number of original wooden sculptures and paintings that will be the focus of this exhibition. A percentage of proceeds from sales will be donated to the Aquarium for the new turtle hospital expansion.

This exhibition will be preceded by my presence on January 30th at Brookgreen Gardens, Pawley's Beach where they will be opening the touring museum exhibition ENVIRONMENTAL IMPACT. This show was created in part from a phone conversation of mine with curator David Wagner, twenty years after we had shown works representing the horrific events of the Valdez Oil spill and now we were in the clutches of the Gulf Oil Spill. This show was organized by David and has now toured numerous museums across the United States. This opening at Brookgreen Gardens will be followed the next day by a lecture that I will present about the dynamics of this exhibition.

All of this is due to the many years of support that I have been gifted with by the people of the Low Country. This week of giving back to the region is an honor for me and it makes me glad that now so many years later in my career as a visual artist, I can have this opportunity to show my appreciation. The interchange that I have had through my art with the folks who have so loved and supported it, has caused me to find in my heart a wonderful love of this place of belonging.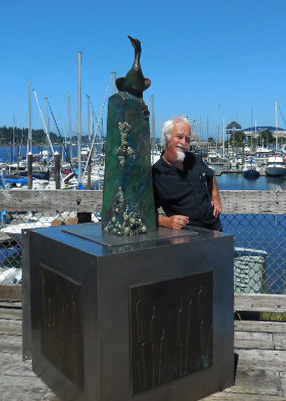 This entry was posted in
What's New
. Bookmark the
permalink
.