My Lecture at Shawnigan Lake School
October 15, 2014
Lecture at Shawnigan Lake School
Shawnigan Lake, BC

Over the course of my years in art I have had the opportunity to teach on several occasions and to do workshops with students of sculpture.  It was my honor this past week to be given two days of lecturing the art students at a wonderful private school on Vancouver Island, British Columbia.

This prestigious Shawnigan Lake School has been in operation since 1913 and continues to be one of the leading schools in Canada, with International students included in the enrollment.  The buildings are spectacular and the charm of the old world is deeply rooted in those structures.  I was majorly impressed with not only the architecture of the buildings, but also the architecture of the students.  Imagine, kids from 8th thru 12th grades actually holding a door open for each other (or you) and being kind and polite!  I loved it.

This opportunity came about from a discussion with my wife Jane's niece Erica who is the Councilor at the school.  She had been a former student and there met her charming husband Chad who was a fantastic Rugby Player, destined for the Olympics, till he met Erica!  Now they live near the school and have two adorable boys, Owen and Seth.  She introduced me through emails to the school's art instructor Don Rolston who made it possible for this lecture to happen.  I hope that time may allow me to return in the capacity of a weeklong residency which will then allow me real time with students and to have them work with me on a project.  I was made to feel very welcomed by Don, Erica and other members of the faculty.

Yes, it was an exhilarating two days for me.  Each class was about an hour in length and I did a slide presentation of my studio and included works in bronze, wood and paintings.  I also included my poetry for some of the pieces shown.  My only wish now, after the event, was that I had made the presentation a bit shorter, with fewer slides so that I may have spent more time drawing out the students with questions.  I will make that correction for any future opportunities to use this presentation.

As said, the students were gracious and for the most part interested in what I had to offer them. I did get a moment to speak with some individuals who were working on projects and to discuss ideas with them.  With less than an hour to visit and show the slides it gave little time to get to know the students.  It was great fun to spend time in and around that young energy and when having lunch in the very expansive dining hall; it made me feel like I was in the halls of Hogwarts School and truly with the likes of many magicians younger than I.

This was a heartwarming experience and fostered within me the desire to again teach young people and to work side by side with them.  I know that now in my later years, I not only have things that I can teach them, but my life as an artist in itself is a stimulant for their futures in art.  I tried to encourage them that with their future whether it finds them creating art for a living or whatever they do in life, that it is important to bring creativity into that arena.  Should they be in a corporate position, fine, use creativity there, we need it very much in all forms of business and ways of life.

I wanted to leave them with a sense of wonder and magic and to strive to be the best that they can be, which is a standard for Shawnigan Lake School.  Like any form of teaching should be, I came away enriched and inspired by the opportunity to give something of myself away to others.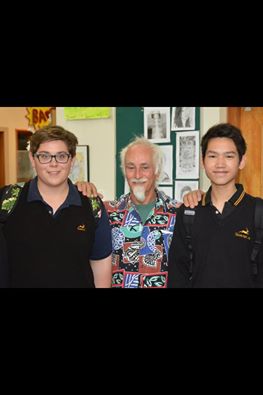 This entry was posted in
What's New
. Bookmark the
permalink
.