Happenings for 2014
May 29, 2014
It is springtime on Guemes Island and nearing summer. The gardens are spectacular and greenery everywhere, so lush.

2014 has shaped up to be yet another busy year around Milkwood Studio and Home.

The Anacortes Arts Commission requested work for their Best of the Fest Exhibition at The Depot Gallery in Anacortes which show held three of my bronzes and one painting. Right now on June 1st I am to bring a piece to the Anchor Art Gallery in Anacortes where a show is being created in support of stopping the Coal Trains from bringing coal in to ship overseas to China! I am going to include my work done in 1989 BLACK DART which work is of an eagle on its back with a black dart in its heart. The piece was done as a protest over the Valdez Oil Spill and now it is again viewed as a rebuke to those who do not listen to our planet and what it suggests for life to exist here.

The City of Olympia has purchased my work RAINFOREST DREAM that was on public display at The Percival Plinth Project on the Harbor Front of the city and it was through the public's People's Choice Award that the acquisition happened. Another work has been selected by jury this year and ILLUMINTED ONE will be delivered there soon for a yearlong exhibition.

Of great note this year is the traveling exhibit of ENVIRONMENTAL IMPACT. The exhibit opened in 2013 and I had the pleasure of visiting it when opened at The R.W. Norton Gallery in Shreveport, Louisiana and to write a review of the show. It will tour this year and next and in January of 2015 I will be present at The Brookgreen Sculpture Gardens of South Carolina for the opening evening and to give a lecture the following day about the exhibit. I am especially fond of this show, as it was conceived during a phone conversation with David Wagner, Curator during the Gulf Oil Spill when I had in front of me my work done 25 years earlier during the Valdez Oil spill, the sculpture of STILL NOT LISTENING. I suggested to Dave that this piece should once again be in the public's eye for a showing and hence he began to create the excellent exhibit mentioned.

I am delighted too that my piece HARMONY is part of the National Sculpture Societies' Fellow Invitational-Online Exhibition.

The Society of Animal Artists hold their annual show at The Wildlife Experience in Parker, Colorado and the tour which includes my work ENSO will go on to Hiram Blauvelt Art Museum, New Jersey, The Ella Carothers Dunnegan Gallery of Art, Missouri, The National Sporting Library and Museum, Virginia.
The City of Des Moines, WA has juried into their yearlong exhibition my work EXPECTING TO FLY and it will be installed next month in July.

I continue to have works on Public Display in Wenatchee, Port Angeles, Puyallup, and Anacortes, WA.
Of interest regarding these public juried exhibits, I was selected to have a piece placed in LaConner, which I was pleased about, as it is an artsy town near Guemes Island and therefore local to Milkwood. I was told that I was supposed to have my own pedestal for this installation, which I did not realize when entering the jurying process. So I got a pedestal made 'the day before' they told me to be there to install the bronze, I got lucky that my local blacksmith friend took the time to put one together for me. I got it installed and the city manager of maintenance did not like it. He thought it was not sturdy enough against the onslaught of youths climbing on it! So I took it back to my blacksmith and had him put more metal struts on it for greater support. I took it back installed it, and then got a call from the town saying that the art committee, whoever they are, did not even like the pedestal and asked to redo it. I went to LaConner and just simply took the piece home! Screw them anyway. Yes, it pissed me off, but then I began to just look at the weird humor of it all! A week later I was asked by a longtime friend who is part of a gallery in LaConner if I would show some of my major works of sculpture with them as the only artists in the gallery were painters. I took that piece juried into LaConner along with several other sculptures to that gallery and there it sits, in LaConner after all. I find this just an interesting story and had to include it in this summary of what is happening at Milkwood.

The year moves on and with it I will in late fall spend 2 days of lecturing at the noteworthy Shawnigan School on Vancouver Island, BC, Canada. I am very much looking forward to this time. As for work this year I have committed to a major event at my main gallery in Charleston, South Carolina.

After my being at the opening of ENVIRONMENTAL IMPACT as Brookgreen Gardens I will do a special event of which I am working towards the rest of this year. It is ABOUT TURTLES and I will do several wooden pieces and paintings and bronzes that will be shown in conjunction with a gala event at Martin Gallery in cooperation with the South Carolina Aquarium and Turtle Hospital in Charleston. Exciting to Jane and I is that we have found a rental apartment in downtown Charleston that we can exchange art for. So we will have a great week of city time exploring the depths of C~City which we love!

Speaking of city time, Jane and I had the great joy of spending two weeks in Paris this early spring or late winter. It was glorious and my first time there, so it was especially wonderful and exciting. We loved it so much that we hope next year can find us a measure of time to go once again to that great City of Lights and Love.

As you see, there is no slowing down at Milkwood. New pieces are continually being produced and going off to galleries and shows everywhere. Just today I will pack 4 bison pieces to go off to Rare Gallery in Jackson, Wyoming for summer sales. Pieces are moving to Rockland, Maine for Harbor Square Gallery and new waxes are being sent to the foundry for casting. Just this past week my life size WHISTLING ST. FRANCIS went in for mold making and before long it will be my newest bronze, which is for the birds….the hands of the Saint holds birdseed and the open hood on the back holds water for a birdbath! I am also doing open editions of a turtle, HATCHLINGS and of hummingbirds, titled SENTINEL. These are being sculpted in wax and are one-of-a-kind bronzes numbered with roman numerals. These make wonderful small sculptures that are unique and with no molding costs are reasonable in price for such unique works of my hands.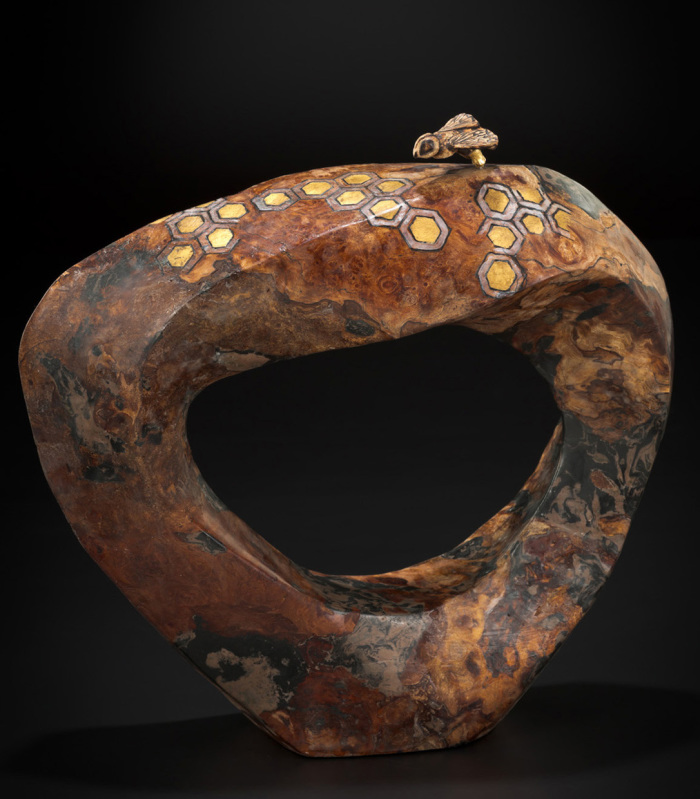 This entry was posted in
What's New
and tagged
artist
,
asian
,
bronze
,
fine art
,
gold
,
museum
,
news
,
wildlife
,
wood
. Bookmark the
permalink
.